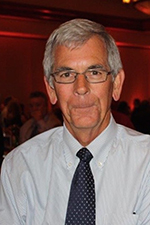 Jim Larkin
Vice President of Franchise Operations
(520) 918-3807
Jim Larkin is the Vice President of Franchise Operations. Jim is responsible for the strategic development, implementation, management and growth of Long Realty's franchise companies including 23 real estate sales and property management companies that are independently owned and operated in Phoenix, Tucson and throughout Arizona and Mexico.
Jim joined Long Realty Company in March 2004 as an Associate Broker to manage new construction sales in West Tucson. He became the manager of the Long Realty Benson franchise in 2006 and accepted the position of Vice President, Franchise Operations with Long Realty Company in July 2007. Jim has more than 30 years experience in realty sales and sales management spanning a real estate career that began in Minneapolis in 1982. Jim is a member of the Phoenix, Tucson and Sierra Vista Associations of Realtors, an active member of the Arizona Association of Realtors and the National Association of Realtors.
Jim's priorities and accomplishments directing Long Realty's franchise department include steady growth in the Phoenix market along with the consistent growth and performance of top quality Long Realty franchise offices in numerous smaller markets in Arizona and Mexico. Long Realty now franchises 6 sales offices in the Phoenix metropolitan area and 4 property management offices in Tucson, Sierra Vista and Green Valley.
Jim enjoys travel, golf, home renovation, gardening and frequent visits with family and friends in other parts of the country.